Walking Through Turquoise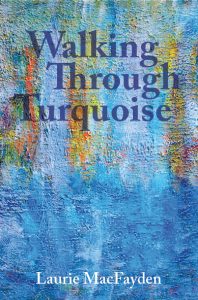 Laurie MacFayden's third book of poetry continues to explore the secrets and flirtations mined in her previous titles, White Shirt and Kissing Keeps Us Afloat. The clumsy intricacies of relationships; things you want to shout from rooftops but can't; that tickle in your gut the first time she calls you honey.
MacFayden ponders a one-way trip to Mars, the turmoil of clouds, the majesty of moonstone. How can desire survive the tragedy of human aging? she asks, never losing sight of the wet, throbbing hallelujah. Walking Through Turquoise is a joyful celebration of the glorious, swirling twine that binds us to things of this earth and beyond.
i am walking through turquoise again
pondering night skies, trees, existence
these hands, my hands,
an exact fit with your hands

slipping, sleeping on waves
buoyed by, somehow, a promise of light
an invisible current
we both know to be wary of the undertow
---
Kissing Keeps Us Afloat
Quartet 2014 (Frontenac House) 
Winner, 2015 Golden Crown Literary Society poetry award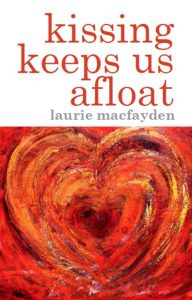 There's a lot of kissing in this book, and a lot of water. From joyous lips to night swimming, first love to last rites, Kissing Keeps Us Afloat is awash in the things that buoy us and the things that nearly destroy us.
The poems pulse with swashbuckling heroines and fast makeout cars; exuberant red crayons and irresistible red lipstick. MacFayden celebrates raw, burgeoning desire while decoding jealousy, grief and family dysfunction with equal aplomb. Kissing Keeps Us Afloat reminds us we are at the mercy of the tides — whether it's the thrill of uncharted waters or safe harbours we seek.
'I like to write about the possibilities of love;

of bobbing along, dreamily floating, keeping our hearts

and heads above water. Because love is the lifeline,

and the reality is, we're all drowning.'

— Laurie MacFayden

"Swinging and searing verses, meditative narratives, honky-tonk tunes and catalogues of favoured things (including what lovers bring — or leave behind), all merge to make Kissing Keeps Us Afloat a book for tongues and lips to sing. MacFayden knows painting and music, and she loves words and women. The result is art without limit, craft without regret, and poetry that faces trauma and embraces the erotic. MacFayden's poetry is both red-hot and cool-blue, white lies and film noir, memory and truth. In the supposed mundane, she shows us, transcendence awaits."

— George Elliott Clarke

"Kissing Keeps Us Afloat is humourous and joyful, uninhibited and sassy. In love with words and images, MacFayden positively swaggers in these exuberant poems that are loose and open and stylish. The poems touch on fear and loss, revenge and regret, but come back to the sensual, back to love, and to the beauty of the world."

— Shawna Lemay

"The colour red infuses Kissing Keeps Us Afloat as blood, anger, and love infiltrate our lives. Red flows as wondrous crayons shading in the shape of a life lived passionately. With flashes of humour and the occasional playful rhyme, MacFayden urges us to keep loving, losing, caring, and colouring. Not always with the red crayons, but these poems remind us to keep those ones — in their hues of crimson and lust — well-sharpened."

— Kimmy Beach
---
White Shirt
Winner, 2011 Golden Crown Literary Society Awards
Finalist, 2011 Lambda Literary Awards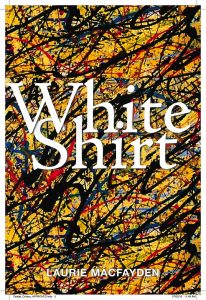 In this debut poetry collection by former sports journalist Laurie MacFayden, best friends scream downhill on their ten-speed bikes; a tree planter spells out her lover's name in seedlings; and a mysterious entity steps out of the mist in Stanley Park.
The author contemplates how best to seduce Joan of Arc and goes on an abstract-expressionist date with Jackson Pollock. Like the white shirt in the title, these poems are crisp, seductive and a little bit sweaty.
"Laurie MacFayden's White Shirt is the sort of garment that appeals and reveals far more than it conceals. Love, longing, loss and desire drip and swirl like the poet's own Pollock-inspired cover art."

— Alberta Views


"White Shirt announces itself with stunning cover art by MacFayden herself. The cover art, Allegra, its violent lashings and splatters of paint, testifies to MacFayden's sensibility: Her work is ejaculations, vivid, colourful, clashing, all indelibly marking the white page. … Come to think of it, MacFayden's cover painting also recalls the black, yellow, red explosion that is the cover for Irving Layton's poetry book Fornalutx. She also seems to share his admirable frankness."

— Halifax Chronicle Herald